HOW IT WORKS
Here is the great part - it's so simple to get your data
Attach the sensor to your racket - or take it off if you don't want to include this session in your data.
Just get on court and play your match or do your practice or coaching session. We'll take care of the rest.
Live stream your practice data to your mobile for instant shot by shot feedback. Or sync all your data post match, for a full breakdown of your stats.
Discover your strengths and weaknesses, improve your stats, perfect your swing, and achieve your personal bests and personalised monthly goals.
SUPPORT FROM
ENGLAND SQUASH
"We have been very impressed by Racketware's motion sensing technology and its application to squash. Providing detailed feedback on the player's use of the racket under real match conditions will be extremely useful for coaches and players alike, and a great incentive for players to both improve their game skills and also to play more squash. We are very keen to see the technology developed further and hope to find a role for it within the Elite Squad."
PAUL CARTER
ENGLAND SQUASH & RACKETBALL'S HEAD OF COACH DEVELOPMENT
THE FUTURE...
At Racketware we're squash mad. So although we love the app and sensor we have today, we're putting a lot of effort into the next set of features. One thing we're super keen on is racket tracking. If you watch our video below you'll see that using your existing sensor - and some fancy software we have developed in the lab - we can track your racket around the court. We want to be able to tell every shot you hit, and see your movement patterns as you play. So keep an eye out for the next big thing!
Don't miss out on the launch of Racketware! Sign up to our newsletter to be the first in the know.
We're interested to hear what you think. Whether you're a squash player wondering about a given feature, or a partner looking to add Racketware technology to your own product line - get in touch!
Don't hestiate to ask us something. Email us directly info@racketware.co.uk or call us at the number below.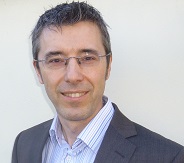 With a first class honours degree in Electronic Engineering, and Ph.D. in Computer Science, Paul spent his early career doing in research at HP Labs. He went on to build and run a large development team working on 3G mobile for Lucent Technologies, before becoming CTO for Vicorp working in speech services. Now founder of Racketware, he specialises in sensor fusion, inertial navigation, and machine learning.