HOW IT WORKS
Here is the great part - it's so simple to get your data
An easy-to-use slide on and click mechanism ensures you know when it is in place at the butt end of your racket.
Racketware powers-on automatically when you start a game, confirmed through an LED light and screen icon.
Powerband, preparation time, follow through duration, and much more to record and analyse at your leisure, or live!
Live streaming or post match, examine your data on your mobile device and learn where to improve your game.
INTEREST FROM
ENGLAND SQUASH
"We have been very impressed by Racketware Limited's motion sensing technology and its application to squash. Providing detailed feedback on the player's use of the racket under actual match conditions will be extremely useful for coaches and players alike, and a great incentive for players to both improve their game skills and also to play more squash. We are very keen to see the technology developed further and hope to find a role for it within the Elite Squad."
PAUL CARTER
ENGLAND SQUASH & RACKETBALL'S HEAD OF COACH DEVELOPMENT
The game of squash is getting really exciting, and we are proud to be one of the first to bring technology to the racket. However, with this great development comes great responsibility. Frankly, we can't do it alone, we need you to help guide us towards the most important variables to capture and showcase.
If you have 2 minutes to spare, would you please click the link below and tell us what you would like us to measure during your games.
Don't miss out on the launch of Racketware! Sign up to our newsletter to be the first in the know.
We're interested to hear what you think. Whether you're a squash player wondering about a given feature, or a partner looking to add Racketware technology to your own product line - get in touch!
Don't hestiate to ask us something. Email us directly info@racketware.co.uk or call us at the number below.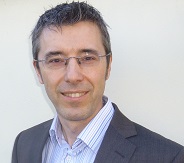 With a first class honours degree in Electronic Engineering, and Ph.D. in Computer Science, Paul spent his early career doing in research at HP Labs. He went on to build and run a large development team working on 3G mobile for Lucent Technologies, before becoming CTO for Vicorp working in speech services. Now founder of Racketware, he specialises in sensor fusion, inertial navigation, and machine learning.